At Candlemas: let's skip the pancakes
Discover my recipe!
February 2nd: it's Candlemas!
Pancakes: history and symbolism
Like many festivals from our Judeo-Christian cultural heritage, Candlemas originates from a combination of pagan traditions and Jewish and Christian religions. In the Catholic religion, 40 days after Christmas, the 2nd February is the date of the commemoration of the presentation of Christ to the temple and the purification of the Blessed Virgin.
The Candlemas, formerly called "Candlemas" comes from the word "candle" thus maintaining a close relationship to the light, it was also an agrarian feast which made a cult of fertility.
It is also said that the pancakes, by their round and golden shape, recall the solar disk, evoking the return of spring after the dark and cold winter. February is the month of the year when the days get longer and faster, sign that the spring looks. Winter sowing can begin, so it is with the surplus of flour that the crepes are made: symbol of prosperity for the coming year.
One belief says that at Candlemas, everyone must toss a pancake and, if it turns properly in the pan, we are sure to have wealth and luck for the year.
Eating crepes together means reconnecting, nurturing or strengthening family and friendships. Pancakes and cakes are at the same time symbol of friendship, love and protection against evil spells and still play a very social role today Mark.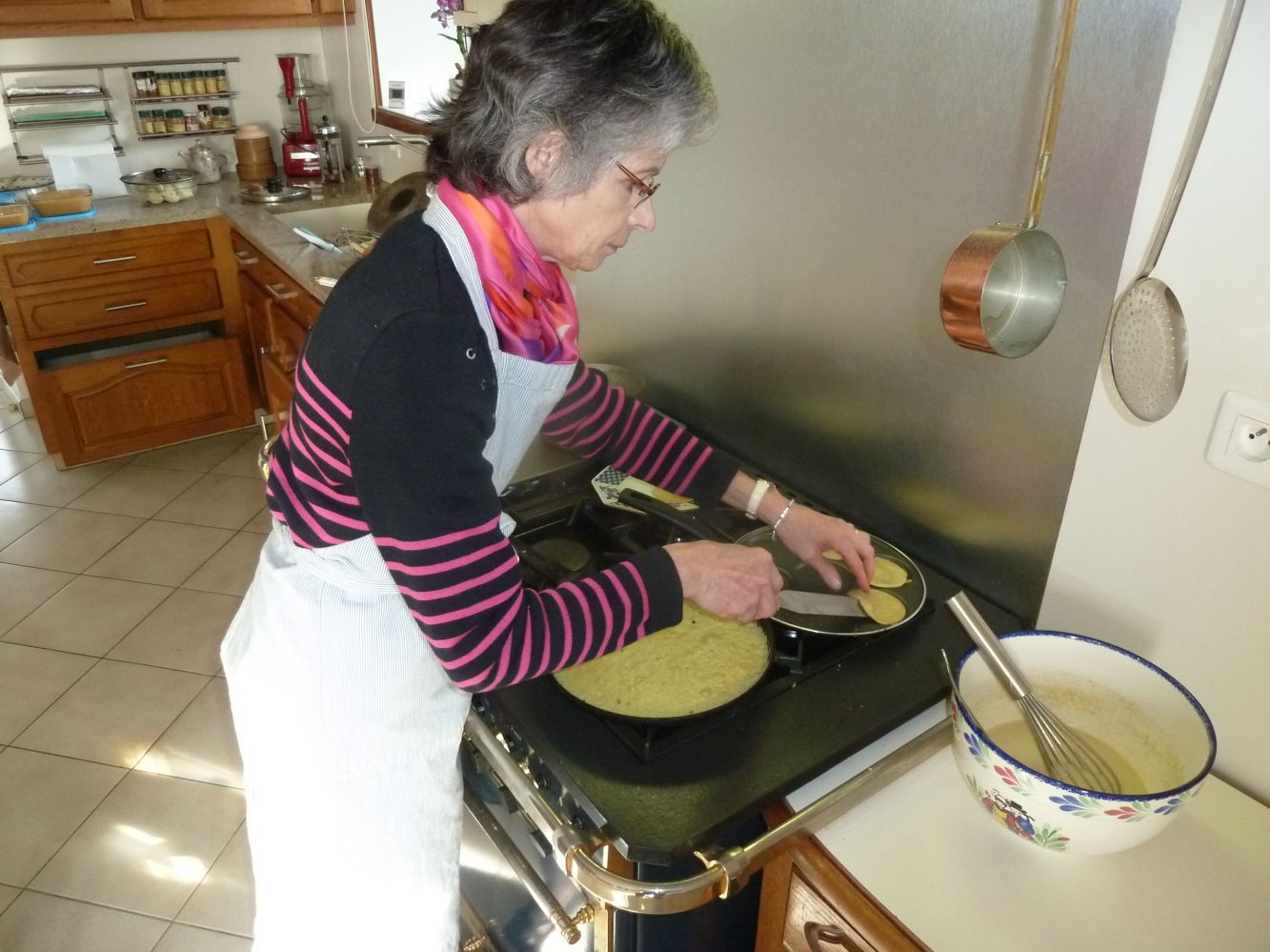 Here is one of my favorite recipes:
Among the many recipes for pancake batter, here is the one I usually make to accompany your breakfast:
For about a dozen pancakes:
-125 g of wheat flour
- 1 tablespoon of buckwheat flour
- 1 egg
- 60 g of sugar
- 60 g of half-salted butter
- 12 cl of fresh whole milk, 1 half glass of water
-1/2 teaspoon of cinnamon, a little rind of orange, 1 tablespoon of cider brandy
Mix the flours in a bowl, dig a well and break the egg, turn with a wooden spoon, add small-to-small milk and water. Add the melted butter and the perfumes. Mix a little more and let stand for an hour.
Grease the pan well with melted butter before cooking the pancakes.
Savor pancakes with sugar, jam, compote, spread or simply with a little
excellent melted butter. There is something for every taste !!
I will be pleased to serve you these delicious pancakes during your breakfast in our guest house: Les Bruyères du Mont.
Enjoy your meal !